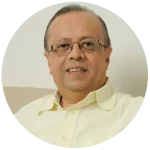 Since its inception in 1959, Pidilite Industries Limited has been a pioneer in consumer and specialty chemicals in India. Over two-thirds of the company's sales come from products and segments it has pioneered in India.
Pidilite is growing its international presence through acquisitions and by setting up manufacturing facilities and sales offices in important regions around the world.
"Pidilite Industrial Products encompasses eight B2B divisions manufacturing a range of specialty chemicals with a cumulative turnover of INR 9,406 million in the financial year 2021-22".
Pidilite Industries Limited is the market leader in adhesives and sealants, construction chemicals, hobby colors, and polymer emulsions in India. Our brand name Fevicol has become synonymous with adhesives for millions in India and is ranked among the most trusted brands in the country.
Our product range includes adhesives and sealants, construction and paint chemicals, automotive chemicals, art materials, industrial adhesives, industrial and textile resins, and organic pigments.
We have reached where we are today due to the close teamwork of our employees and our shared value system, which emphasizes commitment to excellence, closeness to customers, and the spirit of innovation.