Different Types of Technical Textiles and Their Applications
What is Technical Textile?
Technical textiles are defined as textile materials and products used primarily for their technical performance and functional properties rather than their aesthetic or decorative characteristics. This is one of the fastest-growing sectors of the Textile Industry, which is manufacturing high-tech, high-performance fabric designed not just to look attractive, but to present a significant added value in terms of functionality. The textile coating process is widely used in the manufacturing of technical textiles.
The textile industry is not only experiencing clothing application but also continuing a major outlook towards the non-clothing application of textiles known as Technical textiles. The distinctiveness and confrontation of technical textiles lie in the need to understand and apply the principles of textile science and technology to give solutions, in the main leading technological problems but also often to engineering problems as well.

Classification of Technical Textiles
Technical textiles can be divided into many categories, depending on their end-use. The classification developed by Techtextil, Messe Frankfurt is widely used. The classifications and their applications are shown in Figure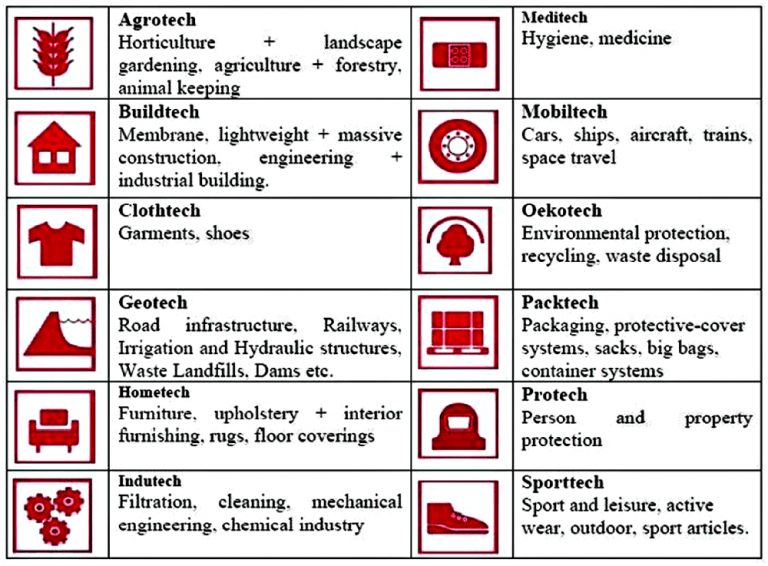 • Agrotech (Agro-textiles)
Textiles used in Agriculture are termed agro textiles. Tanti-hail/bird protection nets, finishing nets, crop covers, mulch mats, shade nets, and others. Given the increasing awareness of the environment and the specific knowledge of the various interdisciplinary technologies, special attention has been paid to unconventional technical applications, such as the use of textile structures in the agriculture and horticulture sectors to increase the quality and efficiency of agriculture and food products in terms of ensuring a healthy environment, social-economic equity, and a profitable economy. There is a growing interest in using materials that gradually degrade (biodegradables).
• Buildtech (Construction Textiles)
Textiles used in construction – concrete reinforcement, façade foundation systems, interior construction, insulations, proofing materials, air conditioning, noise prevention, visual protection, protection against the sun, building safety. architectural membranes, floor & wall coverings, scaffolding nets, awnings & canopies, HDPE tarpaulins, signages, and others.
• Clothtech (Clothing Textiles)
Technical textiles for clothing applications which includes zip fasteners, umbrella cloth, sewing threads, interlinings, labels, elastic narrow fabrics, shoelaces, and others.
• Geotech (Geo-textiles)
These are used in the reinforcement of embankments or in constructional work. The fabrics in geotextiles are permeable fabrics and are used with soils having the ability to separate, filter, protect or drain. The application areas include civil engineering, earth and road construction, dam engineering, soil sealing and drainage systems. The fabric used in it must have good strength, durability, low moisture absorption and thickness. Mostly nonwoven and woven fabrics are used in it. Synthetic fibers like glass, polypropylene and acrylic fibers are used to prevent cracking of concrete, plastic and other building materials. Polypropylene and polyester are used in geotextiles and dry/liquid filtration due to their compatibility.
• Hometech (Domestic Textiles)
Textiles used in a domestic environment – interior decoration and furniture, carpeting, protection against the sun, cushion materials, fireproofing, floor and wall coverings, textile reinforced structures/fittings, furniture fabrics, fiberfill, stuffed toys, blinds, mattress and pillow components, carpet backing cloth, mosquito nets, vacuum cleaner filters, and others.
• Indutech (Industrial Textiles)
Textiles used for chemical and electrical applications and textiles related to mechanical engineering. Industrial brushes, paper-making fabrics, filtration products, computer printer ribbon, printed circuit boards, composites, ropes & cordages, coated abrasives, AGM glass battery separators, bolting cloth, cigarette filter nods, drive belts, and conveyor belts.
• Meditech/Medtex (Medical textiles)
These are commonly used in bandages and sutures (stitching the wounds). surgical dressings, contact lenses, artificial implants, baby diapers, incontinence diapers, sanitary napkins, surgical sutures, surgical disposables, and others. Medical textiles also cover surgical gowns and drapes.
• Mobiltech (Textiles used in transport)
Technical textiles used in automobiles, aircraft, railways, and shipbuilding, such as nylon tire cord fabrics, seat cover fabric/upholstery, seat belts, cabin filters, tufted carpet, helmets, insulation felts, automotive interior carpets, sunvisors / sunblind's, headliners, airbags, seat belt webbing, car body covers, airline disposables, aircraft webbings, and others. The automotive sector has been improving its existing market share and creating innovative products through new developments, consequently increasing the demand for technical textiles. The applications of technical textiles in the automotive sector are expected to grow the most and to drive the market for technical textiles in the future.
• Oekotech or echotech (Environmentally friendly textiles)
Use of technical textiles in environmental engineering and landfill waste management (geosynthetic products to secure landfills against leakage of municipal or hazardous waste); secondary protection in chemical/oil industries (ground covers and around process tanks as secondary containment for tank leaks).
• Packtech (Packaging textiles)
leno bags, wrapping fabric, jute hessian and sacks, soft luggage products, tea bag filter paper, woven sacks, and others.
• Protech (Protective textiles)
Protection against heat and radiation for firefighter clothing, against molten metals for welders, for bulletproof jackets etc, all these things are obtained by usage of technical textiles with high-performance fibers. high altitude clothing, ballistic protective clothing, fire retardant apparel, high visibility clothing, industrial gloves, and others.
• Sporttech (Sports textiles)
Tents, swimwear, footwear components, sports nets, sleeping bags, hot air balloons, parachute fabrics, artificial turf, sports composites, and others.
The demand for technical textile products such as medical textiles (Medtech), specialty and industrial fabrics, protective textiles (Protech), and agricultural textiles (Agrotech) is booming, mainly driven by the other fast-growing industries like automotive, construction, healthcare, infrastructure, and oil and petroleum.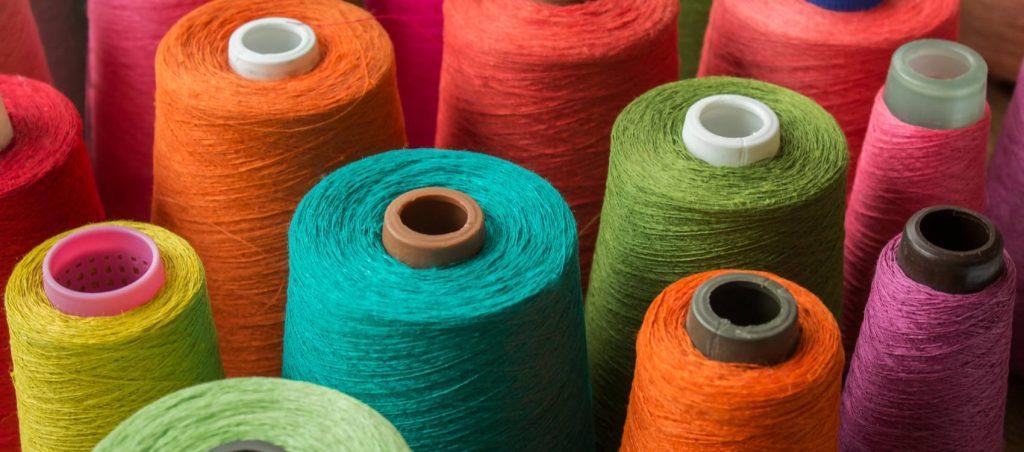 Pidilite Technologies for Technical Textiles
As a global chemical player Pidilite offers effective solutions to enhance textile performance. Pidilite offers technologies like acrylic binders, VAM emulsions, PUD, additives, thickeners, fixers, and formulated solutions portfolios that improve a broad range of functional and aesthetic properties. Apart from these technologies, Pidilite has a range of Hotmelt from Jowat, adhesive, Antimicrobial, Fluorocarbons, flame retardants.
Pidilite forms strong relationships with customers to understand their requirements thoroughly. This enables our coating experts to develop and test different unique solutions that will match the required technical performance and aesthetics look. Our formulations enable customers to enter new, higher-value markets or obtain improvements in production efficiency.
Uses of Technical Textile
Pidilite products are extensively used across many industries in a wide range of technical textile companies in India. These include technical textile uses in segments like Hometech, Packtech, Indutech, Geotech, Sportech, Medtech and Protech etc. Applications consist of apparel, protective textiles, transportation fabrics, home furnishings, window treatments, soft luggage and a range of other technical textile applications for woven, non-woven and knit fabrics. Our portfolio of water-based, multi-functional coatings improves a broad range of functional and aesthetic properties, including flame retardance, abrasion and wash durability, water repellence, chemical resistance, thermal regulation and stretch resistance.