LeatherTech Bangladesh 2023
Date: November 02, 2023-November 04, 2023 Time: 9 AM - 6 PM Location: Dhaka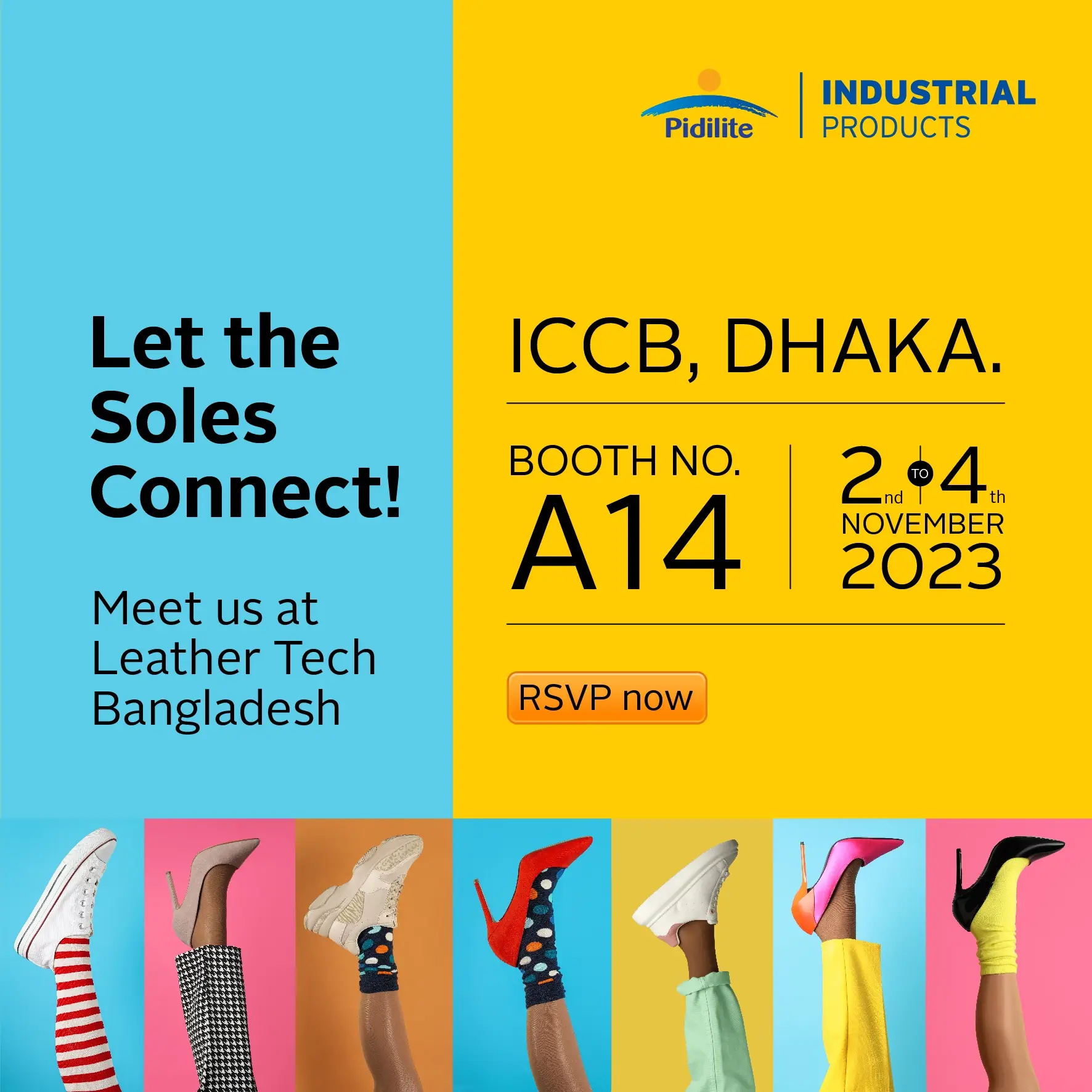 Pidilite Industries is gearing up for an impactful presence at LeatherTech '23, the upcoming exhibition scheduled in Bangladesh from November 2nd to November 4th, 2023. The company's participation will revolve around five key pillars, highlighting Pidilite's commitment to innovation, eco-friendliness, and high-quality adhesive solutions for the footwear industry.
1. Innovation in Footwear Adhesives: Pidilite proudly takes the spotlight as the first manufacturer in Bangladesh to offer Toluene-free footwear adhesives for export-grade products. This pioneering innovation marks a significant stride towards eco-friendly and high-quality adhesive solutions for the footwear industry.
2. A Legacy of Excellence: In 2007, Pidilite initiated its operations in Bangladesh, introducing its renowned brand, FEVICOL. With a stellar reputation, particularly in the wood adhesive industry, Pidilite's expertise and heritage underscore its unwavering commitment to quality and reliability.
3. Diverse Product Range: The company's product line has evolved to meet the dynamic needs of the footwear industry. Pidilite began manufacturing footwear adhesives at its Munshigonj plant in August 2019, starting with Neoprene grades. In January 2021, the product range expanded to include PU Full Kit Products, encompassing PU Adhesive, Primer, Cleaner, and Hardener. These additions emphasize Pidilite's dedication to offering a comprehensive range of adhesive solutions.
4. Serving Industry Leaders: Pidilite's footwear division has long-standing partnerships with numerous prestigious footwear manufacturers in Bangladesh, solidified through the consistent supply of top-tier adhesive solutions. This track record demonstrates the company's commitment to excellence.
5. Global Expansion (Basic Adhesives): Notably, Pidilite recently acquired Basic Adhesive, a U.S.-based company renowned for its expertise in eco-friendly water-based adhesives. With international recognition and a presence in markets such as China, Vietnam, and Southeast Asia since 2006, this strategic acquisition highlights Pidilite's commitment to sustainability and expanding the global reach of its adhesive solutions.
All of Pidilite's products adhere to strict REACh & SVHC (EU) compliance standards, ensuring that they meet the highest industry regulations.
Key themes emphasized throughout this presentation include Green Technology, Eco-friendly Products, Global Reach, Technical Leadership, Efficiency, and Customer Service.
Pidilite Industries looks forward to welcoming visitors to its booth at LeatherTech '23 and sharing its passion for adhesive innovation.
Event Booth: Stand A14
ICCB, Dhaka